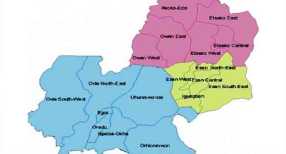 The town of Igarra, in Akoko Edo area of Edo State witnessed a dark Thursday as armed robbers attacked the town in a bid to rob two banks.
According to Channels, atleast four persons were killed including a policeman on duty and two detainees while a Toyota Hilux was set on fire by the robbers as they could not gain access into the vaults.
Chidi Nwabuzor, the Edo State Police Public Relations Officer confirmed the incident but said the information regarding the attack was however still sketchy.